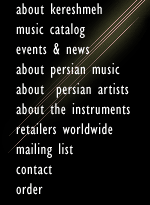 Catalog no. Kereshmeh Records KCD-105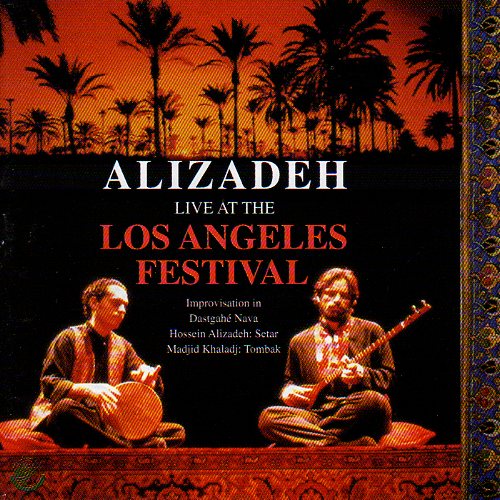 Improvizations in Dastgah Nava


Credits:

Setar by Hossein Alizadeh
Tombak by Madjid Khaladj

Cover Design by Farshid Mesghali
Cover Photography by Reza Deghati


Samples:


Reviews:

"... absolutely inspiring...."
(Cliff Furnald, CMJ)

"... highly charged and invigorating..."
(Todd Michel McComb)




Purchase This Album:

From


From



Overview:



This recording is perhaps the first recording of the new language of Hossein Alizadeh in improvization, where he is going beyond the usual. While connected to the roots of Persian music, he creates a phantasy of the future in a free spirit. Recorded during a live concert at the J. Paul Getty Museum as part of the 1993 Los Angeles Festival, Hossein Alizadeh demonstrates his mastery of improvisation in an electrifying performance on setar. Alizadeh draw upon the rich heritage of Persian melodies in his creation of this colorful and highly energetic music.

Excerpts from the liner notes of the CD:
Alizadeh writes:

"The rhythmical patterns, just like the dastgahs in the Radif, are usually categorized by name and not by their time signature. Their complexity cannot simply be put in a time signature. Various elements act as general models for rhythm; for example, the collection of the various cyclical melodies in the Radif. One can create fairly complex patterns by developing these models. Melodies such as Kereshmeh, Hazin, Basteh Negar, and Zange Shotor define certain rhythmical periods and their foundation can be found in our ancient music.

Free improvisation has lost its major role in today's Persian classical music, while it is still rather common in other eastern countries. Although the form of the performance at the J. Paul Getty Museum may differ from that of the common performances in today's Persian classical music, I believe that it is closer to how our ancient music used to be played."