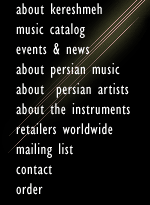 Biography:



Born in 1963 in Shiraz, Iran – the city of poets, wine, and flowers – Farrokhzad Layegh took interest in music composition. He had a brief period of training in western classical music with Massoud Ebrahimi and started playing the setar at the age of 26 with Reza Ghassemi and Massoud Shoari. Layegh also played violin at age 7.

His first experimental innovational work in the domain of Persian Classical Music, lead to professional collaboration of Master Shahram NAZERI, the most worldwide appreciated Persian Singer, in "The Book of Austerity". This work reveals his very personal style of composition, discovering the potential of traditionally monologal nature of Persian Classical Music to arrive in multidimensional dialectical musical spaces.

His second work, "De Profondis", to be released soon, is a basically Post-modern interpretation of Persian Musical Repertoire.






Available Works:



The Book of Austerity (Composition)