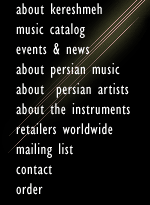 Biography:




Hafez Nazeri, the son of legendary musician Shahram Nazeri, began voice lessons at the age of three, and went on to place first in many voice competitions. At seven, he began focusing his studies on tanbour and setar which he had been playing since he was three. He then became intrigued by the daf, a percussion instrument he taught himself to play. By the age of nine, Hafez had already begun to perform alongside his father in many prestigious music festivals in Europe and the Middle East. At the age of sixteen he performed at the Sfinks Festival in Belgium, the Festa del Popolo in Italy, the Théâtre de la Ville in Paris and the Beiteddine Festival in Lebanon.

In 2000, Hafez assembled a talented group of young performers to form the Rumi Ensemble. Together they performed Hafez's original compositions in a series of landmark concerts in twenty Iranian cities. With 140,000 in attendance, The Rumi Ensemble's concerts in Tehran, set a record for the Middle East. Selected pieces from this tour have been performed by the Armenian Philharmonic Orchestra in London's Royal Albert Hall, and at music festivals including the Sodra Teatern in Stockholm, the De Bijloke in Ghent in Belgium, the Fez Festival in Morocco, and the Théâtre de la Ville in Paris.

At the age of 20, in a search for new artistic ground, Hafez moved to New York to study Western classical music. In 2005, he received a Diploma in Composition and Conducting from the Mannes College of Music. Later in the year, Hafez, along with new members of his Rumi Ensemble, launched "In the Path of Rumi," a highly successful North American tour in venues such as the Los Angeles' Kodak theater and the Atlanta Symphony Hall.

Hafez has appeared on various radio and television programs including on CNN, ABC, Fox, BBC World Service, KPBS, KPFK, KPFA, and the National Public Radio. Among his awards are: the UCLA creativity award for most distinguished young composer, the Irvine City Hall Award of Distinction in Persian music (for his contributions in spreading Rumi's spiritual message of peace through the language of music), and recognitions from The United Nations and The Congress of the United States. February 25, 2006 was named "HAFEZ NAZERI DAY" in San Diego County by the Mayor and the Chairman of San Diego's Board of Supervisors.






Available Works:



The Passion of Rumi (Composition)