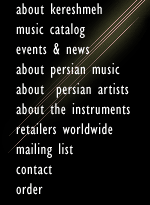 Biography:



Mohammad Reza Shajarian is the undisputed master of Persian traditional (classical) singing. He is regarded as a national treasure by both musicians and music lovers. His singing is technically flawless, powerful, and strongly emotional. In music of Iran, traditional singing is the most difficult art to master. Shajarian is the embodiment of the perfect singer and a major source of inspiration.

Born in 1940 in the city of Mash'had in northeastern Iran, Mohammad Reza Shajarian studied singing at the early age of five under the supervision of his father. His focus at first was on the local folk music of his native province, Khorasan, but later at the age of twelve he studied the traditional repertoire, the Radif.

He has studied with great masters such as Ahmad Ebadi, Esmaeel Mehrtash, Reza-Gholi Mirza Zelli, Ghamar-ol Molouk Vaziri, Eghbal-Soltan Azar, and Taj Esfahani. He started playing the santur under the instructions of Jalal Akhbari to better understand and perform the traditional repertoire, and in 1960, became the pupil of Faramarz Payvar.

Shajarian was deeply inspired by the late master vocalist Gholam Hossein Banan. He studied under the guidance of master Abdollah Davami, from whom he learned the most ancient tasnifs (songs). Davami also passed on to Shajarian his own interpretation of the Radif.

Shajarian started his singing career in 1959 at Radio Khorasan. He rose to prominence in the 1960s with his distinct style of singing. Since then, he has led an illustrious career that includes teaching at Tehran University's department of Fine Arts (among other places), researching the musical arts of Iran, and working at the National Radio and Television. He has been performing regularly in Iran and throughout the world. His performances have brought him universal acclaim and an eminent position among his compatriots.

Besides his tremendous musical talent, Shajarian has had a life-long passion for Persian Calligraphy. Since 1967, he has practiced this art under the instructions of two Iranian master calligraphers, Ebrahim Buzari, and Hossein Mirkhani. At present, he is considered an accomplished calligrapher with his own distinct style.






Available Works:



The Abu-Ata Concert (Avaz)