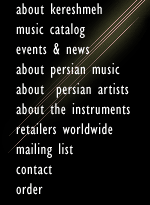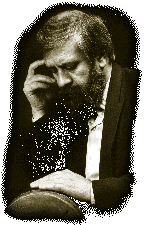 Biography:



Nasser Farhangfar was born in Tehran in 1947. He started playing tombak at an early age of nine. At this time he regularly went to the local traditional zurkhaneh, not to watch the athletes, but to listen to the rhythms of the zarb used in training the athletes. Later he studied with Mohammad Torkaman to better understand the fundamental techniques of tombak. Torkaman was one of the best students of Master Amir-Nasser Eftetah. Farhangfar continued his music studies with masters like Nour Ali Boroumand and Abdollah Davami. In 1970 he started working at the National Radio and Television with Master Aliasghar Bahari and Lotfollah Majd. He also worked with Hossein Alizadeh, Mohammad Reza Lotfi, Parviz Meshkatian, Mohammad Reza Shajarian, and Dariush Talai in the orchestra of the Center for the Preservation and Dissemination of Music. He has also performed in numerous concerts at the Shiraz Arts Festival.

Farhangfar is considered to be one of the top musicians of Iran. He has his own style and technique in playing the tombak and he is thoroughly familiar with the Radif. He is also the keeper of many forgotten old songs. His unique development of rhythm has always melodically inspired those who play with him. In other words, his rhythmical progressions are so musical that they carry the melody within them.

Aside from his mastery of tombak, Farhangfar is a poet and familiar with the art of calligraphy. He is one of the most important figures who have influenced our understanding of the rhythms of Iranian music and his book by the name of Mizanol A'zam is currently under print.






Available Works:



Dawn (Pegah) (Tombak)